Sun Global Glass provide all glass with bespoke wooden crates, guarantee all glass arrived at destination with complete package and safety condition. 

Step 1:

  Pack all float glass sheets by strong wooden crates, inserted with powder or paper
Step 2:
 

Store glass in warehouse that dray and ventination, no glass will be stocked more than 6 months. 
Step 3:

  Loading glass to container by rail hanger, ensure safety loading
Step 4:  

 Fix all crates by steel belt, ensure no movement in container during transportation.
This packing type apply to 

standard sheet size of

 

float glass:

 

clear float glass, tinted float glass, reflective float glass, extra clear low iron float glass, acid etched frosted float glass, silver mirror float glass, aluminium mirror float glass, low-e float glass, and clear laminated glass. 
Main standard size:

1830*2440, 2140*3300, 2140*3660, 2250*3300, 2440*3660, 1830*2600, and other standard size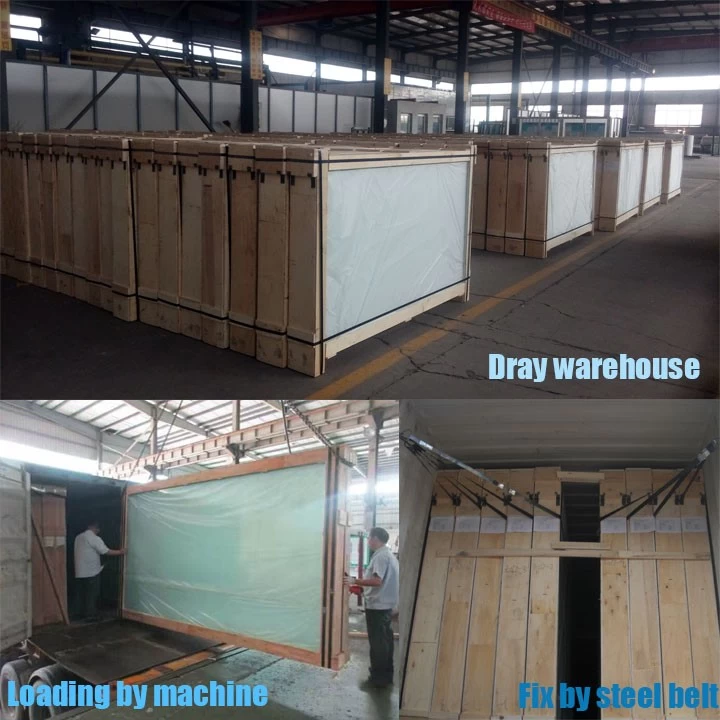 Step 1:

 Pack every piece of glass panels by bespoke wooden crates
Step 2:  
Consolidate package and wrapped the whole crate by plastic shrinkage, to proptect the surface of first and last piece in the crate
Step 3:  
Load crates into containers and fix by steel belt, to avoid of "moving" in the container dring transportation.
This packing type apply to:

cut size and proceed glass, such as clear tempered glass, color toughened glass, tempered laminated glass, decorative beveled wall mirrors, low-e insulated glass, silk screen printing glass, frosted tempered glass, extra clear tempered glass, railing glass, balustrade glass, frameless tempered glass door, frameless bathroom mirror...and so on.