Excellent quality PVB make laminated glass more durable.
kim
www.sggglassmanufactuer.com
2017-10-29 21:54:19
Excellent PVB quality make laminated glass more durable.
PVB are widely used for laminated glass.After a long period of research and development.PVB has good purity, transparency, light stability and strong glass adhesion.PVB film almost can absorb  100% UV.PVB laminated glass is mainly used in the automotive and
construction .
Glass paenl (GLASS+PVB+GLASS)
For the glass assembly of the construction industry,Only the high strength of the adhesive film, which can be increased the life of laminated glass,PVB glass interlayer is made of polyvinyl butyral resin, plasticizer DHA plastic extrusion molding of a polymer material.Single layer PVB glass interlayer thickness is 0.38mm,which has Good adhesion to inorganic glass.With a transparent, heat, cold,moisture, high mechanical strength characteristics.Because laminated glass has a high impact strength performance,can be used for And apply to buildings of doors, windows, ceilings, floors and partitions and curtain wall.Industrial buildings skylights, shop windows, kindergartens, schools, stadiums,private homes, villas, asylum, banks, jewelry stores,post offices and other items to save valuables or glass fragile buildings.Laminated glass is often used in schools, airports, hotels, ministries and commissions and other public facilities, prone to accidents (floor windows, glass doors, etc.) and roof skylights.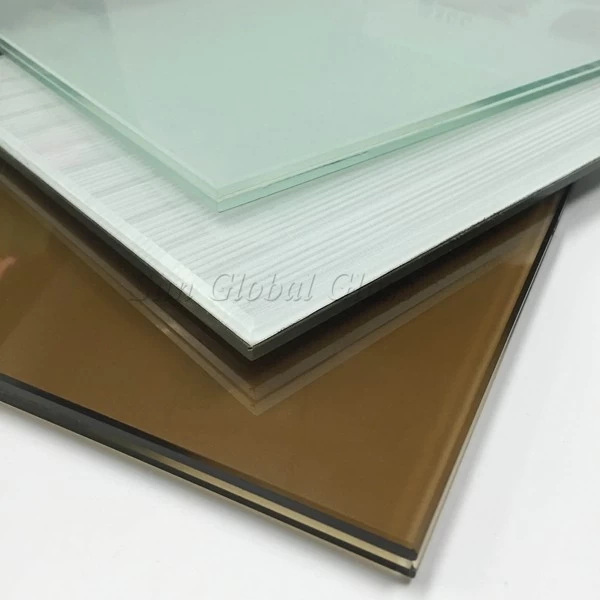 Normally 13.52mm,17.52mm and 21.52mm tempered laminated glass are widely used for balustrade.
Laminated glass balustrade are more economic,easy to clean and open space. Curtain wall also can be
used with laminated glass. But low-e 6+6mm,5+5mm,8+8mm,10+10mm insulated glass can be have a better
effect in energy saving.