How to choose tempered laminated glass for your projects?
Susan
www.sggglassmanufacturer.com
2016-10-25 14:29:04
Tempered laminated glass It is produced by two or more layers of tempered glass are joined together with the interlayer, to become a single piece of glass. This interlayer of PVB could be film or small grants program. What kind of glass can be tempered sandwich glass production materials?
1 float glass (clear glass float / ultra clear float glass / stained glass / reflective glass)
2 glass frosted / acid engraving to the water deposit
3.Low-E glass
4.Silkscreen glass, etc..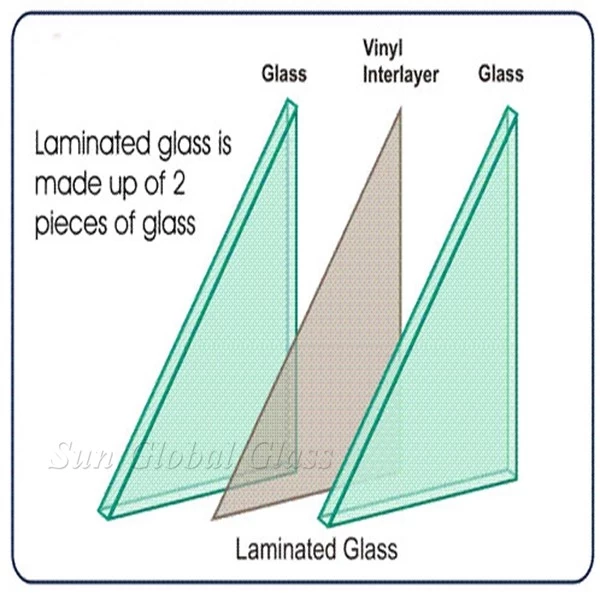 All glass are mentioned above, it can be tempered and then mixed flexible than a single laminated glass. How to choose a combination for hardened laminate for your projects? We consider these aspects:
1 safety factor: thick tempered glass interlayer is very important to consider the self-weight of the tempered glass, need to choose Insert thicker. For example, 6.6.1 laminated glass, here you had better 1.52 mm pvb film or 1.14 mm pvb film at least. Because they are too weak to hold two panels of tempered glass for 0.38mm/0.76mm.
2 energy saving factor: compare to clean tempered glass and tempered reflective laminated glass, Low E tempered laminated glass has the best performance of energy-saving
3 usage: glass combinations are decided by different applications, due to the laminated glass has good performance in UV proof, sound-proof and shock-resistant. Thus glass laminated tempered have been widely used in the system of façade, or balustrade, to offer a good vision when is looks to through towards outside and increase the aesthetic of them buildings.
Glass curtain wall system: Low E laminated clear glass laminated glass, etc. 

Furniture: you can use ultra clear tempered laminated glass, tinted laminated glass, etc. 

Glass ceiling sky light: Low E laminated clear glass laminated glass, etc. 

Handrail, railing hand: can be tempered glass tempered clear, colorful (pvb films colors) laminated glass, laminated silkscreen, etc.. 

pool fence: tempered Ultra clear laminated glass or clear GSP tempered laminated glass, etc. 
Sun Global Glass as a professional had hardened glass laminate factory, you can always get professional suggestion, fine crystal and good services from it. More information safety tempered laminated glass please check our website.