Talking about Low-e glass
kim
www.sggglassmanufacturer.com
2016-11-17 20:14:40
In modern city,with the
high population density and 
traffic three-dimensional occured.More and more high-rise building caught people's eye.Because the high demand of decorative to the buidling.So the curtain wall wildly used in high-rise building.
When we choosing the building glass,appearance is the mainly points.But we also consider 
thermal insulation ,costs of energy saving and light pollution.so the energy saving glass 
bearing have appeared.Low-e glass is one of them.
It's get more and more attention by architectural designers.
low-e glass also called  Low Emissivity glass.it is coated a metallic compound on the glass surface.Low -e glass first used in 1976. Some companies can produce with a large scale in 1985.
From 1990,low-e glass usage amount with annual growth rate of 20%.

2.The energy saving theory of low-e glass
Low-e glass has excellent light transparent  as annealed glass.Glass is one of the most popular and versatile building materials used today. One reason is because of its constantly improving solar and thermal performance. And one way this performance is achieved is through the use of passive and solar control low-e coatings. So, what is low-e glass? In this section, we provide you with an in-depth overview of coatings.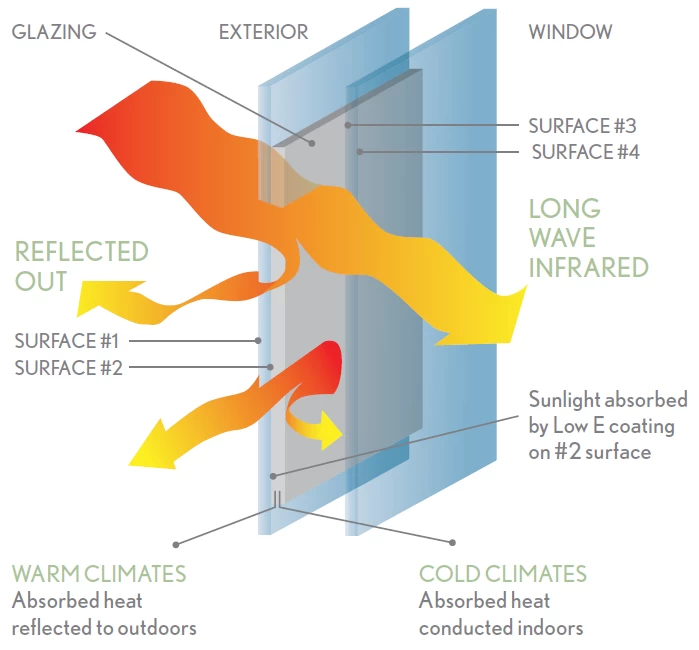 3.The improvent of Low e glass.
With the  progress of  technology,the performance of low-e glass has improved a lot.such as the problem of thin low-e film.So that's why insulated glass appeared.Insulated glass can protect low-e coating.
Source for www.sggglassmanufacturer.com