The last day of Gulf Glass Exhibition in Dubai
KIM
www.sggglassmanufactuer.com
2017-09-27 19:18:21
The last day of Gulf Glass Exhibition in Dubai
By the last day of the Exhibition on 27th September 2017, 80% more trade visitors had visited our company in the exhibition.The exhibition has attracted  more than 20 different countries from the exhibitors, more than 6200 sellers from all over the world.Most of businessmen come here to buy the products what they saw yesterday and the day before yesterday. What they looking for most are laminated glass,insulated glass and tempered glass. Although it is 40℃ high temperature. But Sun Global Glass staff full of energetic and enthusiasm.We are pleasure to service our customers.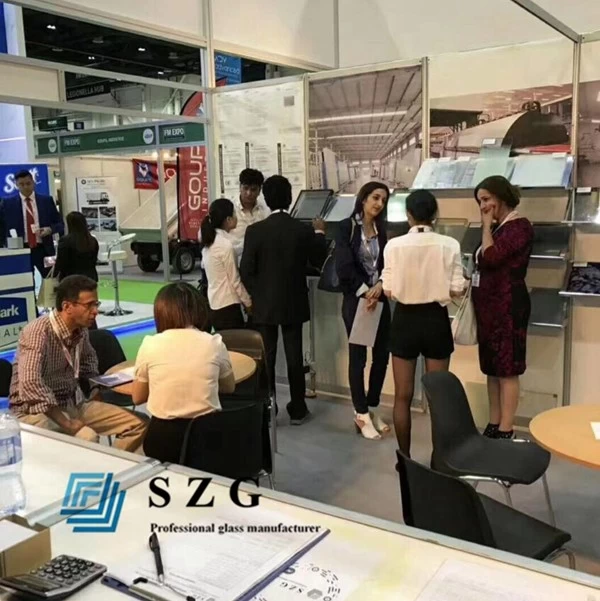 Tempered glass is the hottest products in the exhibition.Tempered glass can be divided into flat tempered glass a,curved tempered glass and heat soaked glass.
Jumbo size flat tempered glass is our featured products. Max size can be 3.3M width and 13m length. Mostly produce 4-19mm. Chemical tempered glass available for 3mm. We can produce 13000SQM/DAY. Tempered glass quality meet with CE and BS6206 certification. Projects spread all over the world such as UK,The USA,Norway and Poland. Etc
Curved tempered glass widely used for facade,shopfronts and curtain wall.But you need to obey the rules as below. Radius≥400mm,Height≤13000mm,Arc length≤3300mm.But the mini radius also depends the thickness. For example, 5-8mm,minimum radius 1000mm, 8-12mm minimum radius 1000mm 1500mm, 15-19mm minimum radius 2000mm. Mainly thickness from 5-19MM.
3 days exhibition is finished perfectly today, if you are missed our exhibition. You can visit us www.sggglassmanufacturer.com for more details.