11 Styles of Shower Doors and Glass Options
Roger Liao
www.build.com
2021-11-03 19:25:10
1.
Sliding Shower Doors
Sliding doors—or bypass doors—are the most popular type of shower doors. Bypass doors slide from side to side and take up the least amount of space. With these doors, you can opt to have two or three panels situated on the track. You can make it so just one door slides and the others remain fixed, or you can arrange it so that each panel is mobile. Sliding doors are ideal for corner, stand-alone showers, and bathtubs that boast a shower/tub configuration.
2. Trackless Doors
If you would rather skip the intrusion of a track in your doorway, you can look into a swinging door for your shower. There are two variations, and some doors combine elements of both so they will at times be used interchangeably: the pivot door, and the hinged door.
Pivot doors are swinging shower doors that rest on a floor-mounted hinge that allows for a 180-degree rotation. These doors open both inward and outward. The hinge can be attached on either side of the door, for a simple 180-degree pivot, or - depending on the space you have available - it can be center mounted to allow for a complete 360-degree rotation. Pivot doors are more modern and more likely to be found in newer homes. While pivot doors are pretty and sleek, they're not great for small spaces.
In contrast, hinged doors differ from pivot doors in that the door swings on hinges anchored directly to the wall. This allows the lower edge of the door to be set at whatever height your bathroom design may need. The hinge is attached to a stationary glass panel, the wall or the shower surround. Due to the limited angle on the hinge, they swing one direction and work more like an actual door. It is simple in design and is more commonly found on stand-alone shower stalls. Though a hinged door requires less space than a pivot door, it does require some clearance in the bathroom.
3. Neo-Angle Shower Doors
If you're working with a tight-space and have a corner shower, a neo-angle door may be the best door for you. This type of door cuts across the 90-degree angle created by the corner shower, consisting of two side panels and a flat front edge, creating a diamond shaped floor space for showering. The door is centered between the panels and is designed to open out into the room to maximize space both inside and out of the shower.  
4. Bi-Fold Shower Doors
Bi-fold shower doors, or tri-fold shower doors, (also known as bath screens) consist of several glass panels. One panel is typically fixed to the shower surround or wall while the other two panels fold outward on hinges, like bi-fold screens or closet doors. These doors are generally used to save space in a small bathroom as they do not require a lot of clearance.
5. Steam Shower Doors
A steam door is designed to help a shower stall double as a steam room. To keep the steam in, the door must fit tightly from floor to ceiling and along the sides. The hinges are designed to be airtight to prevent steam from escaping, and the panels come equipped with air-tight seals. These doors come with moveable panels—called transoms—that act as vents.
6. Curved Shower Doors
Curved shower doors fit on rounded shower trays, or flush with tile floors, with a curved glass enclosure and track-guided bypass doors that make them ideal for corner shower stalls. The curved glass wall provides for more room in a small space and makes it easier to enter and exit the shower without having to squeeze through a tiny opening. With no sharp corner angles, curved shower doors are much easier to clean than any other type of door as there is no need to dig between the
7. Frameless Shower Doors
Frameless shower doors are often more aesthetically pleasing than framed doors. If you have intricate tile work that you want to show off, or if you want your shower stall to appear as unobtrusive as possible, a frameless door may be a great option for you. It can also be used to make the room appear more open, rather than cut a small space down by the size of the shower stall.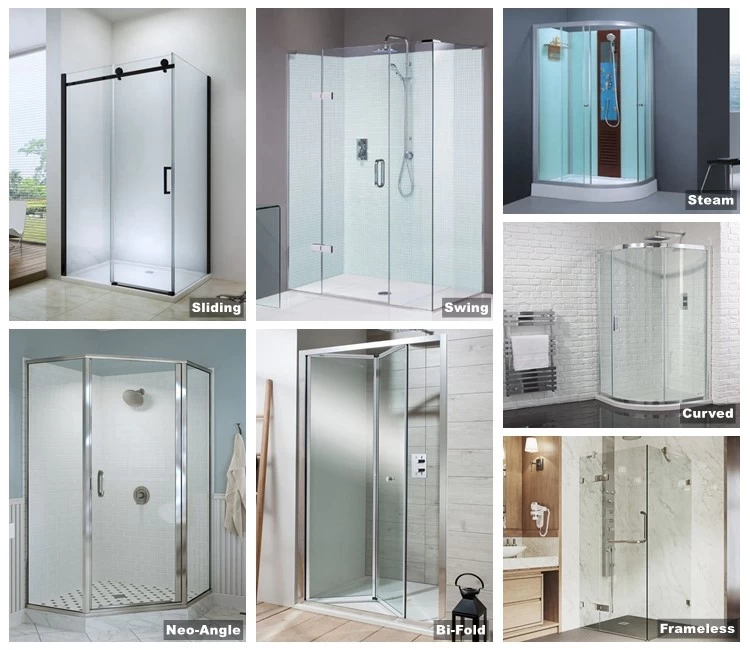 Glass Options
Just as there are multiple styles of doors, you aren't limited by the material they are built from.
1. Clear Glass
Clear glass is the most popular shower door option for a few obvious reasons: it lets light in, it's clean looking, and it makes a bathroom appear to be bigger than it actually is.
2. Frosted Glass
Frosted glass is ideal if you need a shower door that offers privacy while still allowing in light from outside the shower stall. It hides streaks better than clear glass (therefore requiring less cleaning) and comes in a variety of colors and designs, perfect for the homeowner who wants a minimal maintenance and a more unique shower door option.  
3. Tinted Glass
Tinted glass is another option that provides for a creative yet sleek appearance. Tinted glass comes in a variety of tones including gray, bronze or even black. You can choose to have the glass just slightly tinted for a more-opaque look, or have it tinted until it is nearly impossible to see through.
4. Rain Glass
Rain glass offers a unique decorative appearance that is ideal for bathrooms with more natural stylistic elements. One side of rain glass is textured to look like water droplets while the other is completely smooth. Like frosted glass, rain glass is great for privacy and hides water and soap streaks while allowing plenty of light.
As you can see, there are many different options to choose from and each of them potentially impacts the entire look of your bathroom. The shower space can be a focal point that ties everything together for a relaxing bathing experience, or it can be the tiresome dead zone that makes the room feel disjointed and unplanned. SZG has rich experience in produce glass shower door system, contatc and consult us to custom your shower door now!