How many colors of 4mm silver mirror you can have?
Susan
www.sggglassmanufacturer.com
2016-11-12 17:30:35
Silver mirror has been used widely on home interior decoration, they can be bespoken any kind of shape and size to meet different application's requirement.
Today we are going to talk about 4mm silver mirrors.  its production process is same to 3mm silver mirror glass. That is, before mass production, you should collect grade A quality of 4mm clear float glass as mirror substrate. They must be washed and clean, then coated with high quality silver coating, there are two layers to make sure 4mm silver coated mirror have excellent performance for anti-moisten and durable.
Some architects will look for colored mirrors to realize their desgin can be vivid and stylish. Sun Global Glass is a manufacturer of mirror and glass in China, they can produce different 4mm colorful silver mirrors, includes:
4mm pink mirror;
4mm french green silver mirror;
4mm dark blue silver mirror;
4mm dark grey mirror glass;
4mm euro grey mirror
4mm ford blue mirror glass
4mm dark green mirror glass
4mm golden mirror glass
4mm bronze colored silver mirror glass
4mm dark bronze silver mirror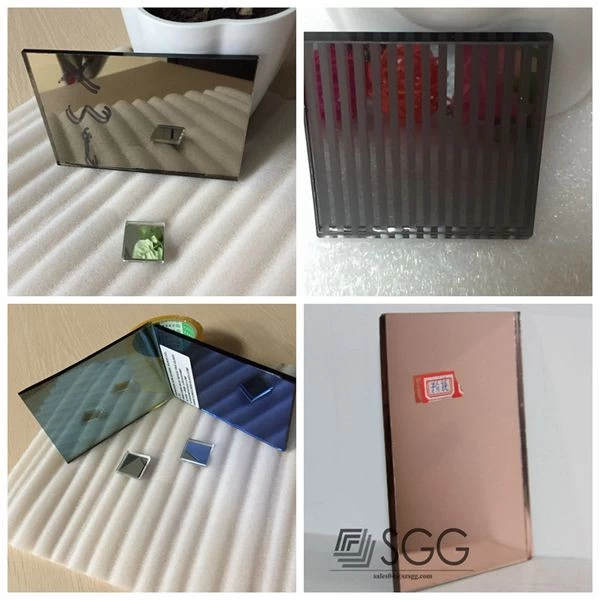 You can have standard size of them: 1830mm*2440mm, 2134mm*3300mm, 2250mm*3300mm, etc. On the other hand, you also can place OEM order to us, we can arrange production against your drawings, the deep processing include: cutout, drill holes, polished edge, beveled edge, and so on.
Welcome to contact with us for any possible order.
---Sun Global Glass