How to produce 3MM silver Mirror glass?
Susan
www.sggglassmanufacturer.com
2016-11-11 20:57:53
An silver coating glass mirror is made of a 3mm clear float glass manufactured using vacuum coating, i.e. Silver powder is evaporated (or "sputtered") onto the exposed surface of the glass in a vacuum chamber and then coated with two or more layers of waterproof protective paint.
Shenzhen Sun Global Glass Co., Ltd is a mirror and glass in China manufacturer. Here I would like to introduce the process of 3mm silver coated mirror glass:
1.Collected high end quality of 3mm clear float glass panels, they must have transparent surfaces, no bubbles, no scratches, no waves, etc.
2.Wash glass panels and dry them
3.Using high quality silver coating spray on glass surfaces consecutively, there are two layers coating.
SGG 3mm silver mirror can have various colors, for example: pink mirrors, green mirrors, bronze mirror, black mirror, blue mirror, and so on. So far 3mm mirror glass have been widely used on furniture parts, for example: dressing tables, cabinets, mirror ceilings, mirror walls, etc. Our company is good at producing all kinds of bespoken shape mirrors.  You can have 3mm round mirrors, 3mm rectangle mirrors, 3mm square mirrors, 3mm oval mirrors, etc., and their edge works includes: flat edge, beveled edge, straight edge.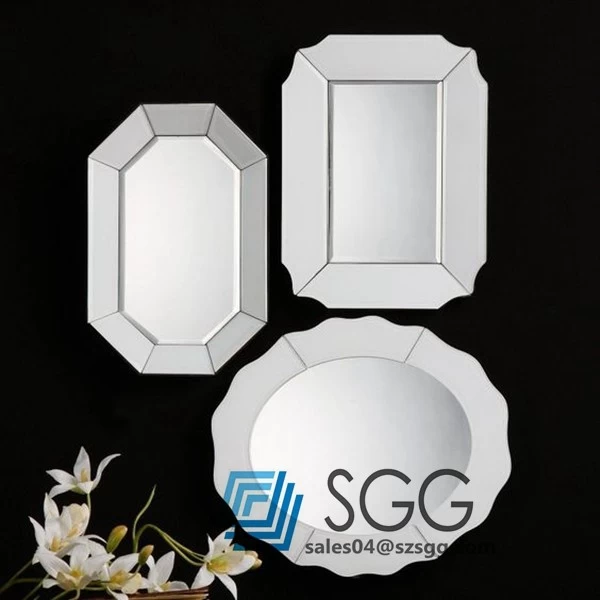 The more details about 3mm silver coating mirror glass, please contact with us. You always can have high quality mirror and glass in China.
--- Sun Global Glass